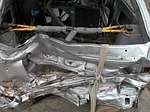 If you have truly minor damage to your vehicle, such as paint scratches or minor dents, then as long as the insurance company pays for all of the damage and restores your vehicle to its pre-accident condition then you may not need an attorney. If the damage to the vehicle was slight you likely did not suffer any serious injury. You should still visit a doctor to check for any latent injuries before you sign any paperwork presented by the insurance company. Even before speaking with a Texas personal injury lawyer.
The insurance company, even if it is your own insurance company paying for the repairs, is likely going to present you with paperwork that requires you to agree to waive any other claims to property damage and it may very well require you to waive any injury claims. Only a doctor can tell you if any injuries may have occurred or signs to watch for.
First steps after a car wreck in Dallas and Fort Worth, Texas
If you have been in a car accident with serious damage to your vehicle you should visit your doctor if you are not taken to the hospital. You could have injuries resulting from striking part of the interior of your vehicle, the airbag, the seatbelt, or any other safety feature that has caused injuries to your head, spine, neck, back, muscle tissue, nerves, etc. Your doctor should know what to look for and what steps are necessary to look for likely injuries. If you do not go by ambulance to a hospital you should go to the doctor as soon as possible.
Sometimes injuries do not show up or start to hurt until days or even months later. Later stress can inflame a minor problem caused by the accident. For these reasons it is important to visit your doctor as soon as symptoms appear. If your doctor recommends that you follow up with a specialist or a chiropractor you need to follow their advice. They are, after all, the experts in the human body. All of the same applies to any passengers in your vehicle, especially children. Children do not always understand or know how to express that they experience pain, dizziness or tenderness.
Should I speak to an attorney or lawyer in Dallas or Fort Worth, Texas?
It is a good idea, at a minimum, to consult an experienced car accident attorney after an accident if there is any pain or injury to a person in the vehicle and/or if the insurance company disputes necessary repairs. Every dollar an insurance company pays out on a claim is a dollar of profit it loses. That is exactly why insurance companies want to pay as little as possible. They will try to convince you to take less money than necessary to cover medical bills. They may pay your current bills and make you waive any future claims against them.
If your injury becomes worse, they will not have to pay anything. Because the insurance adjuster or claims administrator is not required to be totally honest or present the law accurately to you there may be some deception, or at least innocent misinformation, provided by the insurance company to get you to settle. They are less likely to pay you for lost wages while you are out of work or at doctor appointments. The insurer may try to convince you to have your own insurance policy or health insurance cover your treatment. They may even tell you if you hire an attorney you will get less. A powerful tool in negotiation is to command more knowledge than the other side of the table. They have experience and training in adjusting insurance claims. You should have a lawyer on your side to balance the negotiation.
Dealing with the insurance company after a Texas car wreck
The only way the insurance company can get you to accept less money is if you do not know what your claim is worth – the value of your current and future medical bills, lost wages, pain and suffering, property damage and other out of pocket expenses – and you do not know your legal rights. This is exactly what Texas attorneys are there for. We can help determine the value of your injury and protect your rights to make sure you receive just compensation.
Sometimes the insurance company will offer to settle your claim at a reasonable number and based upon the property damage and the advice of your doctor it may be unwise to pay an attorney to try to increase the offer since you will then deduct back out the attorney's fees. Often there is a legitimate reason to hire a Dallas or Fort Worth attorney to negotiate on your behalf. The only way to know which situation you fall into is to make an appointment to talk to an attorney. Consultations can be as quick as ten or fifteen minutes and often will be free. That is a worthwhile use of a small amount of your time.